Teeing off at Noon… Games/Silent Auction/Food starting at 11AM.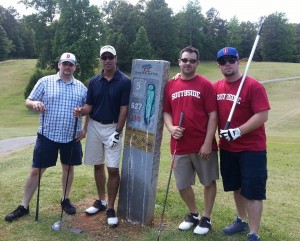 This summer our youth group will be embarking on a mission trip to the community of Fall River, MA. We will be working alongside local church planter, Tom Cabral and their newly planted church, Redemption Fellowship (www.redemptionfallriver.com). We were blessed to be able to partner with them last summer. It was amazing to watch the Gospel of Jesus Christ make a loving difference to a forgotten community.
We would like to ask you to consider partnering with us in helping fund this years mission trip. On May 10, 2014, we will be holding a golf tournament at Green Oaks Course in Concord, NC. All proceeds earned form the tournament will go towards the trip. We need your help. A few ways you can help us is by sponsoring a hole (advertising), donating resources for a silent auction, attending the tournament and  inviting your friends. We are a smaller church, but we have very big hearts and serve a very big God. We believe that with your help we can make a difference in that community as well as in the hearts of all who will attend this trip.
If you plan to golf with us please send us an email with your name and how many people will be coming with you.  Email us at: contact@southsideconcord.org
If you would like to donate towards our mission trip, please click on the following link and at the middle of the page it says "Make a Donation" you can donate any amount. Thank you!